Madeleine quadrata al limone
Seguendo la ricetta tradizionale delle nostre maddalene offriamo, tra i nostri prodotti, maddalene con un tocco di limone, grazie all'uso della buccia dello stesso limone. La sua consistenza è dolce, morbida, tenera  e possiede un leggero gusto di limone per coloro che desiderino un tocco diverso a ogni morso.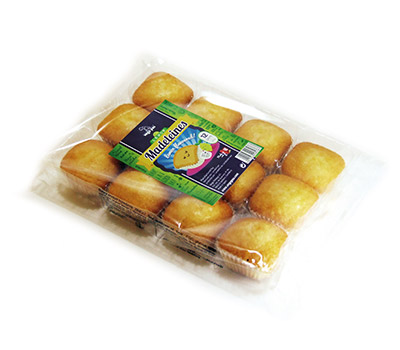 Nutritional facts
INGREDIENTS:
Wheat flour, sunflower oil, sugar, egg, glucose syrup, water, 0.3 % natural flavour lemon, raising agent (E-450, E-500), Anti-caking agent (E- 516), salt, preservatives (E-202, E-270), flavouring and acid (E-330).
Contain:
Cereals containing gluten: Wheat. Eggs and products thereof. Milk and products thereof (including lactose).  May contain traces soybeans and products thereof. Free from GMO.