Ci sono due storie sulla sua origine, quale scegli?
Una racconta che l'origine di questo dolce viene dalla mano di una giovane francese che cucinava con amore questa Madeleine per il re della Polonia Stanislao I, che possedeva un palazzo in terra francese.
L'altra risale ai Pellegrini che si recavano a Santiago di Compostela, laddove si racconta che una giovane chiamata Madeleine serviva ai Pellegrini dei dolcetti che avevano la forma di una conchiglia, che è anche il simbolo di questo pellegrinaggio, estendendo così la tradizione di mangiare Maddalene per tutto il cammino di Santiago.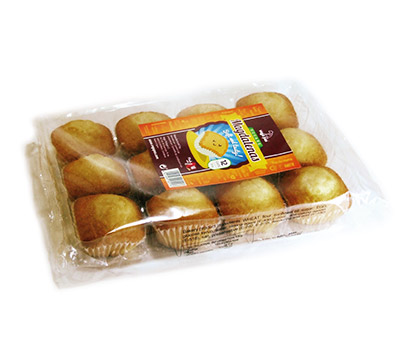 Nutritional facts
INGREDIENTS:
Wheat flour, sunflower oil, sugar, egg, glucose syrup, water, raising agent (E-450, E-500), anti-caking agent (E- 516), salt, preservatives (E-202, E-270), flavouring and acid (E-330).
Contain:
Cereals containing gluten: Wheat. Eggs and products thereof. Milk and products thereof (including lactose). May contain traces soybeans and products thereof. Free from GMO.