There are two stories behind its origin. Which do you think is the authentic one?  
One says that the origin of this cake comes from the work of a young French woman who cooked this cupcake with loving care for the king of Poland Stanislaw I, who had a palace in France.
The other one goes back to the pilgrims travelling to Santiago de Compostela, where it is said that a young woman named Madeleines served the pilgrims cupcakes in the shape of a scallop shell, the symbol of this pilgrimage, thus extending the tradition of eating madeleines all along the road to Santiago.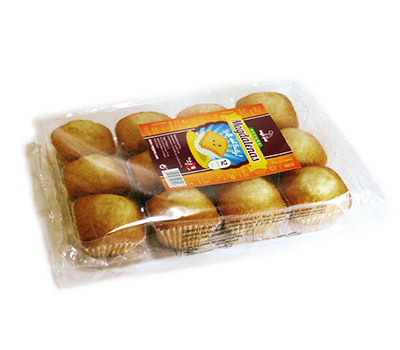 Nutritional facts
INGREDIENTS:
Wheat flour, sunflower oil, sugar, egg, glucose syrup, water, raising agent (E-450, E-500), anti-caking agent (E- 516), salt, preservatives (E-202, E-270), flavouring and acid (E-330).
Contain:
Cereals containing gluten: Wheat. Eggs and products thereof. Milk and products thereof (including lactose). May contain traces soybeans and products thereof. Free from GMO.